If you are having trouble viewing this email with images, please click here | Share this Email

HU Watercooler Talk ~ May 8, 2018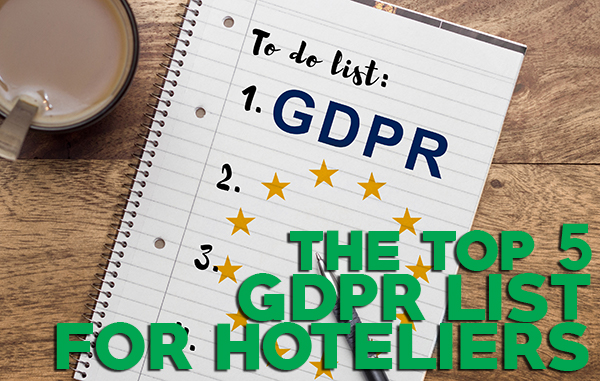 Hotels have Finally Jumped into the GDPR Game —
The Top 5 GDPR List for Hoteliers
May 25 is quickly approaching, and the streets are abuzz with GDPR. Hoteliers are struggling for guidance and everyone has a thought or opinion as to what getting to GDPR compliance means. The worst part is so many hotels are receiving incomplete or faulty information and will be in for a rude awakening soon. David Durko gives a checklist for hoteliers to focus on compliancy as the deadline quickly approaches.

READ MORE
Oracle hosted its 5th annual Oracle Industry Connect (OIC) in New York City. More than 1,900 people attended this year's event from the seven industry verticals Oracle serves: Communication, Construction and Engineering, Energy and Utilities, Financial, Health, Hospitality and Retail. HU's Managing Editor Geneva Rinehart examines this year's conference and shares why it's a must-attend event.

Click here to read
Read the current issue:





The hospitality industry is a prime target faced with potential data security breaches. Sean Cox discusses the legal and ethical obligation and, of course, guarding your customers' trust when a breach occurs.




READ MORE
From Hospitality Upgrade's 14th Annual Executive Vendor Summit, hear from four of the hospitality industry's most innovative and forward-looking technology executives. In this session, learn what technologies they are currently focused on, where they are headed with guest experience and a few other things you may not know about their companies. Panelists include: Andrew Arthurs, SVP and CIO, Two Roads Hospitality; Jeff Bzdawka, SVP - Global Hotel Technology, Hyatt; Darren Clark, VP Technology, Viceroy Hotels and Resorts; and Andy Tjan, CHTP,
Corporate Director of Technology and Innovation,
Rosewood Hotels & Resorts.


Amadeus

"Amadeus is a technology innovator that connects the entire travel ecosystem at every stage of the journey. Amadeus offers the hospitality industry solutions for reservations, sales and catering, property management and operations, all focused on a better end-to-end experience for guests, employees, managers, owners and partners."



READ MORE

Guestware

"Guestware is a cloud-based solution for hotels and resorts to optimize guest service and maintenance processes. Guestware enables staff to improve guest service scores (GSS and TripAdvisor) while providing leadership the data to know that guests are happy, staff are productive, and the facility is well maintained."



READ MORE

Knowcross

"Knowcross offers hotels software products that help streamline hotel operations, boost efficiency and enhance guest service, with a direct impact on the bottom line. The Knowcross platform includes KNOW Service, KNOW Housekeeping, KNOW Glitch, KNOW Mobile, KNOW Inspection and KNOW Maintenance."



READ MORE

Megasys Hospitality Solutions

"Megasys Hospitality Solutions (Megasys), based in Tulsa, Okla., for more than 27 years, continues to be, 'At Your Service' providing property management, supporting technologies and unrivaled service to its unique clients."



READ MORE

Systems Associates, Inc.

"Designed specifically for hospitality, SynergyMMS provides operational efficiency through workflow automation and seamless communication between departments."



READ MORE
NATIONAL RESTAURANT ASSOCIATION SHOW
MAY 19-22, 2018, CHICAGO, IL.
For more information, visit http://show.restaurant.org/​
HITEC HOUSTON
JUNE 18-21, 2018, HOUSTON, TEXAS
For more information, visit http://www.hftp.org/hitec/houston/
HSMAI ROC AMERICAS
JUNE 19-20, 2018, HOUSTON, TEXAS
For more information, visit http://www.hsmairoc.org/
Everyone loves trivia, right?
In honor of the Kentucky Derby (and Rich's favorite hobby), how many Derby winners have also won the Preakness Stakes in Maryland and the Belmont Stakes in New York, capturing the Triple Crown?

Think you know the answer?
Visit our Facebook page to leave your best guess!