If you are having trouble viewing this email with images, please click here | Share this Email

HU Watercooler Talk ~ December 13, 2017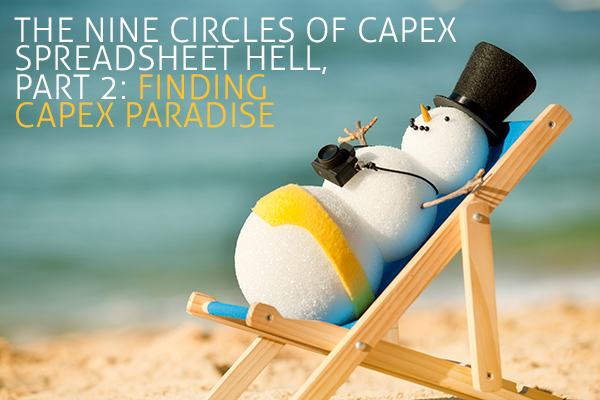 The Nine Circles of CapEx Spreadsheet Hell, Part 2:
Finding CapEx Paradise
You wouldn't consider using a spreadsheet to manage your contact list or manage your guestroom inventory; you probably use software applications specifically designed for each of those functions. CapEx planning and administration technologies are no different, needing its own system to provide for greater accuracy, reliability and efficiency. Thomas Riegelman explains how you can find
your own CapEx Planning Paradise in seven steps.
Over the years, décor and technology in hotel rooms have each changed significantly. Hotels in the past were very different: we've gone from paraffin lamps, basic radios and the very first coffee machines, to new technologies like free Wi-Fi and television on demand. Curious to discover what else has changed over the years? Check out Accor Hotels' timeline of the guestroom and what changes are to come.

Click here to read

Millennials are more likely to make purchases after seeing or hearing advertisements compared to Gen Xers, Baby Boomers and other older generations, according to a new survey from Clutch, a B2B ratings and reviews firm.

Click here to read
Read the current issue:





Hotel wireless network systems have come a long way since initial deployment in the 90's. In "Wireless Networks," Jeremy Rock details what to look for when searching for your next provider.




READ MORE
SHR Infographic:
The Art of Selling to Three Generations

In an increasingly competitive hotel market, truly knowing and engaging your guests has never been more important, and that includes understanding their generation. But only one in five guests report being fully engaged. Learn how these low engagement numbers translate into a huge opportunity for hoteliers as SHR walks through understanding, reaching and converting more hotel guests from every generation in their newest infographic.



Aptech Computer Systems, Inc.

"Aptech Computer Systems is an IBM Premier Business Partner that offers Execuvue web-enabled Business Intelligence, Targetvue Budgeting and Forecasting, and PVNG Enterprise Back Office systems."



READ MORE

Datavision Technologies, Inc.

"Datavision integrates information from all of a property's key systems (PMS, POS, spa, golf, ski, GL, labor, etc.) and delivers actionable business intelligence at the user's fingertips."



READ MORE

hospitalityPulse Inc.

"hospitalityPulse has developed a range of products that decrease operational costs, increase guest satisfaction and help hoteliers drive incremental revenues including roomPulse™, FIRE™, pulseBooker™, pulseQueue™ and pulseMobile™."



READ MORE

PAS

"For nearly 30 years, PAS has been providing back office expertise to a global client base, including top hotel brands, management companies, REITs and casinos."



READ MORE
Consumer Electronic Show
January 9-12, 2018, Las Vegas, NV
For more information, visit www.ces.tech/
HSMAI Digital Marketing Strategy Conference
February 21, 2018, New York, NY
For more information, visit www.hsmai.org/
Hunter Hotel Conference
March 21-23, 2018, Atlanta, GA
For more information, visit www.hunterconference.com/
Everyone loves trivia, right?
How many pieces of mail is the United States Postal Service expecting to deliver during this holiday season?

Think you know the answer?
Visit our Facebook page to leave your best guess!