If you are having trouble viewing this email with images, please click here | Share this Email

HU Watercooler Talk ~ August 2, 2017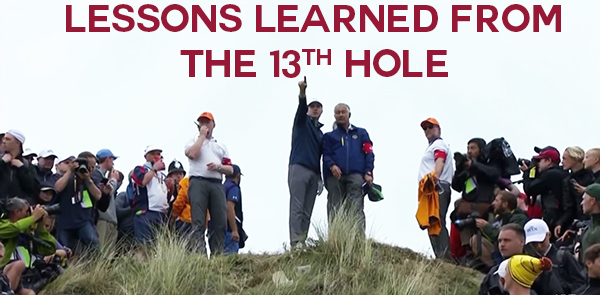 Jordan Spieth – An Object Lesson for Entrepreneurs
Golf enthusiasts and casual fans alike agree that Jordan Spieth's play on the 13th hole during the final round of The Open Championship at Royal Birkdale proved nothing short of miraculous. The enthusiast admires the application of the sometimes-arcane rules of the game of golf, and casual fans and most significantly, entrepreneurs, see many lessons. Larry Hall recaps the best takeaways from Spieth's incredible play.
Dan Phillips recounts his quest at HITEC 2017 to find Wi-Fi providers, TV providers with casting and vendors excelling in guest experience and personalization. His opinion? HITEC delivered all three.

Click here to read

While there was no major theme across the electronic door locking vendor space the way mobile was the big deal in 2016, there were several interesting technology and business-related developments to report. Geoff McDowell takes a closer look at the biggest trends from HITEC 2017.

Click here to read
Read the current issue:





It may not be glamorous but a hotel couldn't exist without back-of-the-house systems. In "It's Time to Focus on the Numbers," Jeremy Rock reviews the advances in business technology and applications for the hospitality industry.




READ MORE



| | | |
| --- | --- | --- |
| Technology is a necessity today; however, technology partnerships can be a love-hate relationship. Here are a few things to think about as you evaluate new technology partners, brought to you by NAVIS. | | |
ADB

"For 20+ years, ADB has been committed to offering the best and most useful interactive TV features for its customers. As the provider of 100 million at-home television set-top boxes and broadband gateway systems around the world, ADB is intimately familiar with what guests have, what they use, how they use it, and what they want."



READ MORE.

BBH Blueport

"Founded in 2003, Blueport provides hospitality-focused technology that reduces costs while delivering the power of engagement to connect, entertain and safeguard hotel guests."



READ MORE.

Blueprint RF

"As a dedicated hospitality network services provider, Blueprint RF enables hotels to meet the demands of today's wired guests. The company's intelligent network offers real-time reporting on information that impacts guest satisfaction."



READ MORE.

Cloud5 Communications

"Cloud5 is now one of the most trusted providers of communications and networking solutions for the hospitality industry. Serving thousands of hotels and their guests since 1999, its solutions help satisfy the increasing demands of the always-on guest while controlling the high cost of bandwidth."



READ MORE.

Edge Communications

"Edge designs, builds and manages end-to-end communications solutions for the hospitality industry. From the initial strategy to site installation to ongoing network management and 24/7 technical support, Edge provides hoteliers with a complete managed services solution."



READ MORE.

Eleven Software, Inc.

"ElevenOS is one of hospitality's leading guest Wi-Fi management platforms. Approved by major brands and leading boutiques, Eleven helps millions of guests stay connected each month."



READ MORE.

Honeywell

"Honeywell's INNCOM® energy management and integrated guestroom automation solutions include guestroom controls and centrally controlled systems that support amenities like lighting and drape controls, situation alerts, data collection and reporting."



READ MORE.

Hospitality WiFi

"Hospitality WiFi was founded in 2001 by a former Holiday Inn general manager to provide fast, reliable Wi-Fi for hospitality properties. Its Wi-Fi and other services (such as DIRECTV, VOIP, CCTV) can be found at more than 3,000 sites in all 50 states and around the world."



READ MORE.

Intelity

"Intelity is the creator of one of the world's first and most widely used integrated guest services platforms. Since beginning operations in 2007, the Inc. 5000 company completed successful installations across six continents, including celebrated industry brands and independent properties."



READ MORE.

Intello Technologies Inc.

"Commercialized throughout Canada and the United States, the Caribbean and Africa, Intello solutions are industry leaders. With more than 2,000 successful installations and its in-house technical support center, Intello has a proven track record."



READ MORE.

Velociti Inc.

"For more than 20 years, Velociti has been a global provider of technology deployment and project management services, specializing in the installation and management of a broad range of networking and transportation technology products. Velociti's experience allows enterprise-level technology consumers to maximize ROI as a result of leveraging expert, rapid deployment. "



READ MORE.
Hospitality Upgrade CIO Summit
September 5-8, 2017, Denver, CO
For more information, visit http://www.hospitalityupgrade.com/HU-Events/CIO-Summit
HFTP Annual Convention
October 25-27, 2017, Orlando, FL
For more information, visit http://www.hftp.org/hospitality_conferences/annual_convention/
HX: The Hotel Experience
November 12-13, 2017, New York, NY
For more information, visit http://www.thehotelexperience.com/HX2017
Everyone loves trivia, right?
Which iconic New York hotel opened in 1907, offering room telephones and pincushions?

Think you know the answer?
Visit our Facebook page to leave your best guess!