Back to School Green Tips


As kids are returning to school this Fall, here are some simple tips to encourage sustainable habits and support a healthy environment… and healthy kids!

1.

Start with the basics

. Remind kids to turn off the lights in the bathroom or any unoccupied room at home and at school. Encourage them to throw away any trash they find on the school playground, tell them to use both sides of their notebook paper, and suggest that they save unused chalk and art supplies.

2. Carpool.
If you live somewhere where bus service isn't provided, start a carpool and take turns with other parents in the neighborhood to drop off and pick up the kids. You'll each save time, energy and fuel.

3. Make smart decisions while shopping.
Buy school supplies with less packaging and seek those made with organic and/or recycled materials. Consider investing in sturdier products – this can ensure years of use from commonly used items like backpacks.

4. Spread the word. Encourage your children to spread their environmental consciousness. They can suggest that their friends pack lunches too so that they can trade items or have a cool reusable lunch bag as well.

TOUR POUR DU JOUR
Sunday Sept. 29th
and
Sunday Oct. 27th
4:30pm to 6:00pm

$20.00 per person
Includes a guided tour, two glasses of Graylyn wine and a fruit and cheese reception.

Tour dates will take place on select Sundays and will be posted each month atwww.graylyn.com.

After the tour, we would love for you to stay and enjoy Graylyn Dining, a tempting four-course experience created for our guests by our award-winning culinary staff.

For more information, to book a tour, or to make a reservation, please call 336.758.2425 or visitwww.graylyn.com.
Your Journey Awaits.

GRAYLYN DINING
Don't forget. Graylyn dining is available every night. Celebrate your next birthday, anniversary or whatever theoccasion.

Call 336.758.2425 or complete a reservation request online.
QUICK LINKS


Introducing Wake Forest University's 2013 Graylyn Scholar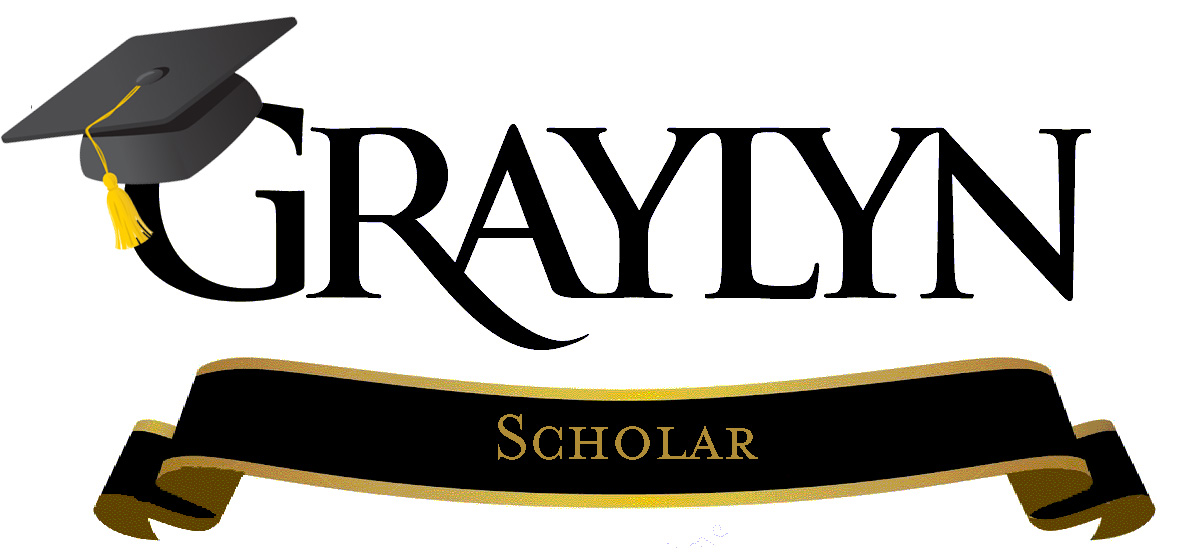 Graylyn welcomes its new Graylyn Scholar for the 2013 academic year, Paulomi Banerjee! Paulomi is a native of Cherry Hill, N.J., and attended Cherry Hill High East.

Begun in 1990, the Graylyn Scholarship is offered to one student each year and recognizes leadership and academic excellence, with funding provided by and in recognition of the Graylyn International Conference Center of Wake Forest University.

"I was very excited to be chosen for this scholarship," Paulomi said. "But when I realized there was only one person picked to be the Graylyn Scholar I was even more honored."

As a senior in high school, Paulomi served as class president. While it was difficult balancing both the duty of class president along with her academics, she said that she really enjoyed planning events including prom, school dances and homecoming.

Paulomi is currently an undecided major, but she is leaning towards math and economics. She said she will also be getting into more clubs and extracurriculars as the year goes on but is enjoying her time just being a college freshman.

Congratulations Paulomi, and welcome to the Graylyn family!
Plant a Seed, Reap Graylyn Rewards!

Know of someone looking for a perfect place to host their next meeting? With a charming history and innovative meeting technology, Graylyn is the ideal place for a unique and successful meeting. Plant a seed with a colleague and you'll receive a complimentary overnight stay at Graylyn. When they book their meeting they'll also receive a complimentary 30 minute cocktail reception.


It's our way of saying "Thank You" for the introduction!


Our sales team is intent on ensuring your meeting with us is perfect. Give us a call at 800-472-9596 or request a proposal online. Click here to find our Referral Reward at www.graylyn.com. We appreciate you!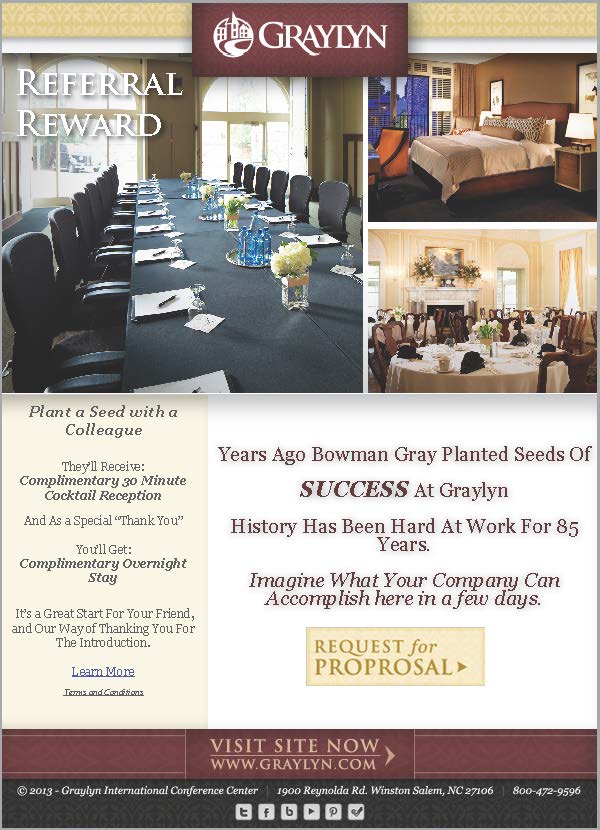 Complete Meeting Package

starting at $209.00 per person*

September 15th & 16th
September 20th-23rd
September 29th-30th
October 1st-3rd
October 16th
October 24th-31st

CMP includes: Overnight Accommodations, Gourmet Breakfast and Lunch Buffet, Flexible Dinner Options, AM & PM Continuous Brain Food Coffee Breaks and Standard Audio Visual Package.


Promotional rates are also available for our
Complete Training Package

Request a Proposal

*Per person per night double occupancy estate guestroom. Rate quoted does not include tax or service fees. Rates are based on availability for new qualifying groups that accept the group contract terms and conditions. Cannot be combined with other promotions or discounts. For more information contact Graylyn Sales at 800-472-9596 or visit our website at www.graylyn.com


FOOD & BEVERAGE CORNER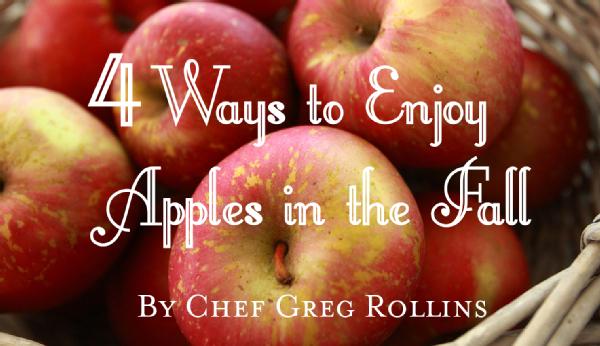 1. Grilled
Think dessert or salad with this one. Preparation is simple. Have a bowl with little oil, honey and cider vinegar. Have your apples peel, cut in half and core, toss in bowl and place on a hot grill. Cook apples for three minutes and turn. Apples can be served with ice cream for a dessert or toss with baby greens for a salad.

2. Cold
I'm thinking lunch with this apple fennel salad. Have your fennel clean and any apple of choice julienne into small strips. Toss your apples and fennel in a bowl with cider vinegar and a hint of sugar. Finish with chopped parsley and serve with fish.

3. Hot
Bring on the brine. Brines are very easy and add great flavor to any meat or poultry. This is quick apple brine that great for pork.

½ gallon of water
½ cup of brown sugar
½ cup of salt
1 cup of concentrate apple juice
fresh thyme
1 tsp of whole black peppercorns

Remember not to over brine, pork chops 2hrs, pork butt 4hrs and pork loins 3hrs. Your brine pork can be prepared by grilling, roasting and baking.

4. Raw
I loved the red apples for this preparation. Apple cider vinaigrette is simple yet very tasty.

1 whole diced red apple
1 tsp of dijon mustard
1 tsp of honey
1/3 cup of cider vinegar
1 garlic pod
1 tsp of chopped shallots
1 cup of salad oil

Place all ingredients except the salad oil in a blender, blend and drizzle salad oil slowly into blender until the liquid is emulsified. Season apple vinaigrette with salt and pepper and toss with your favorite greens to make a wonderful salad or toss with veggies for grilling.




Enjoy,


Beverage Corner:
Umberto Fiore Moscato d'Asti


Umberto Fiore Moscato d'Asti is an aromatic semi-sparkling wine with half the carbonation of a typical sparkling wine. Extremely aromatic, with a famously complex perfume, Moscato d'Asti has a mild level of sweetness, counterbalanced by vibrant acidity.


This bold flavored moscato p
airs well with fruit, sweet cheeses, desserts, fresh berries and cream, pineapple, pastries and white chocolate.


When Nicolao Manfredi first produced Dolcetto in Farigliano in 1863, he did more than just produce wine, he started a tradition that would be passed on for four generations. Today, the Manfredi family has been able to update not only their production methods but also the quality of the end product—classified as Piedmontese wines.